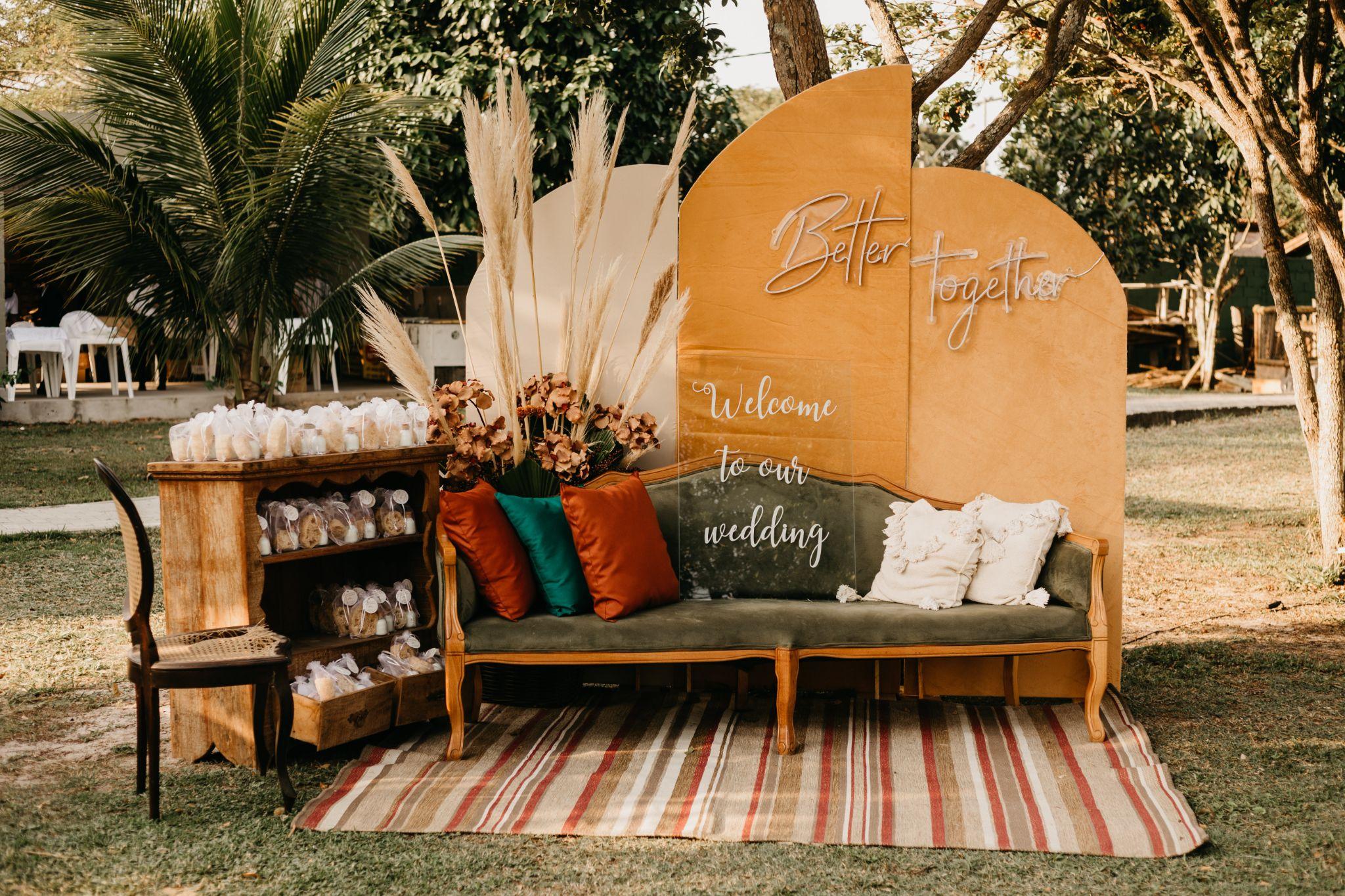 10 Creative & Memorable Ways to Welcome Your Guests at Your Wedding Reception
Your wedding day is a special time filled with joy and anticipation. You want everything to be perfect, including the way you welcome your guests to your reception. Whether you're looking for something traditional or something out of the ordinary, there are plenty of creative and memorable ways to welcome your guests to your wedding reception. From a heartfelt welcome speech to a rousing singing-telegram, the possibilities are endless. Read on for 10 ideas to help make your guests feel special and welcome when they arrive at your reception.
Welcoming your guests with a speech
One of the best ways to welcome guests to your wedding reception is to give a heartfelt speech. You can make your speech as short or as long as you like, but keep your message short, sweet, and meaningful. If you are going to give a speech, keep these tips in mind:
Make sure your timing is appropriate—you don't want to bore your guests before the reception even begins.

Preface your speech by thanking the guests for their presence and for their gifts. This helps your speech transition to a more personal level and gives your guests an idea of what's coming next.

Speak from the heart. Your speech should be genuine, and you should use it as an opportunity to share a bit of yourself with your guests.

Close your speech with a toast to your soon-to-be spouse and perhaps a special message to one or two guests.
Giving out welcome gifts
Hosting a wedding is expensive, and most couples are on a tight budget. But don't let finances hold you back from giving your guests something to remember the occasion. Giving your guests a small gift to welcome them to the reception is an extra special way to show your appreciation.
There are plenty of gift options at a variety of price points. You can give one gift to all of your guests or a different gift to each guest. Some great gift ideas include:
A keepsake box or corkboard with a personalized message
A personalized guest book
A picture frame with two photos inside (a picture of each of you and your fiancé, a picture of the two of you together, etc.)
Customized mugs or travel cups
A gift card to a restaurant or a local store
Favors that tie in with the wedding or your relationship
Creating a special photo booth
A photo booth is a great way to get your guests excited about the reception and have fun with their friends. You can have a traditional photo booth or have a creative twist on the concept, like a photo wall or a photo maze. Whether you opt for a traditional or unique photo booth, there are some things to keep in mind:
Location - Where will you put the booth? Make sure it's a central location and easy for your guests to find. You can even have the booth as the first thing guests see when they enter the reception hall.

Lighting - Make sure there's enough light to take good pictures. You can use lighting inside the booth or outside, depending on the type of booth you have.

Accessories - Don't forget to include fun props in the booth. You can give each guest a basket of basic props or have themed props available.

Cleanup - Make sure someone is responsible for cleaning the booth after each use. This ensures the booth is in good condition for each use and helps keep things tidy.
Writing welcome notes for the guests
Writing welcome notes for your guests is a thoughtful and creative way to welcome them to your reception. Write a short message to each guest or have your fiancé or a family member write notes to the guests who are most special to you.
You can either place the notes in a basket for your guests to read when they arrive or have the server give the note to each guest as they arrive. Be sure to address each guest by name.
Include a short message about the guest of honor, your fiancé. You can thank him for being part of your life and for being there for you during the planning of the wedding.

Include a short message about your relationship—how you met, how you knew your partner was the one, etc.

Include a message about your wedding and how happy you are to have your guests there. Thank them for celebrating with you and wish them a great time.
Holding a cocktail hour
A cocktail hour is a great way to welcome your guests to the reception. This is a relaxed way to get everyone together and serves as a nice build-up to the meal. You can have a hosted bar (where the hosts pay for all the drinks) or a self-served bar (where guests serve themselves).
Some popular drinks for a cocktail hour are:
Sake, wine, mojitos, martinis, and cosmos are all popular options for a hosted bar.

Juice, sparkling water, or soda water are great options for a self-served bar.
You can have just one drink or a variety of drinks during the cocktail hour. You can also choose to serve appetizers or other light snacks during the cocktail hour.
Note: A hosted bar is best for a small group of guests. A self-served bar is best for a large group of guests.
Inviting a singing telegram
If you're looking for a creative way to welcome your guests, consider hiring a singing telegram. There are a number of singing telegram companies that offer everything from classic singers to pop stars. Some companies even offer themed singers, like Elvis, Marilyn Monroe, and characters from Star Wars. You can hire one singer or several, depending on the size of your party. A singing telegram is a fun and memorable way to start the party.
Before hiring a singing telegram, do some research. Find out how long the company has been in business, how they handle cancellations, and how they train their employees. It's also a good idea to speak to past customers to see what they have to say about the company.
Providing a unique photo backdrop
If you have a creative theme for your wedding, you can create a unique photo backdrop to use for photos with your guests. You can do this for the newlyweds' first dance as well as the cake cutting. A photo backdrop can be anything from a tarp in the colors of your wedding theme to a life-sized portrait of you and your fiancé.
You can either create the backdrop yourself or hire a company to make one for you. If you decide to create the backdrop yourself, keep these tips in mind:
Make sure the backdrop is eye-catching but not distracting from the wedding.

Make sure the backdrop is easy to set up and take down. You don't want to spend the entire reception setting up the backdrop.

Make sure the backdrop is easy to store. You don't want to keep it after the wedding; you just want to use it during the wedding.
White Clover - Online Invitations
White Clover offers a unique electronic invitation service with distinctive design. With this exceptional feature, you can create invitations that will impress your guests from the very beginning. From exquisite graphics with elegant designs to customized themes that reflect the unique character of your wedding, White Clover allows you to create standout invitations. Every detail, from color selection to layout arrangement, contributes to the creation of a personalized and unique experience for you and your guests.
If you choose to send your wedding invitations, prefer a plantable invitation, which then can be planted.
Conclusion
Welcoming your wedding guests in a creative and meaningful way is a great opportunity to show your appreciation for their presence. Whether you opt for a heartwarming speech, custom welcome gifts, or fun entertainment, take time to welcome your guests with joy and make them feel special. After all, this day is a celebration of not just you and your spouse, but all the loved ones who have supported you both.